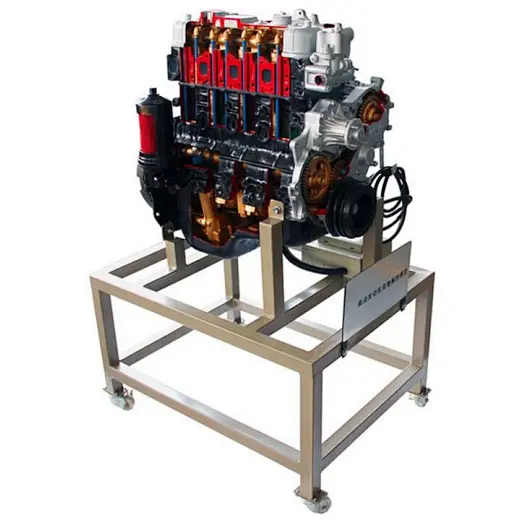 Auto engine dissection trainer
GTAT-1008
Technical parameter
1. Dimensions: 800x600x1200mm(L x W x H)
2. Drive motor: Single phase, AC220V, 120W, <=100rpm
3. Power supply: AC 220V, 50Hz,
Supply Ability
30set / Month
Country of Origin
Guangzhou,China
The engine training model dissection engine trainer can show the cutaway structure of the engine. Different components and parts has been marked by different colors; This engine training model dissection engine trainer can be used to learn the basic knowledge, inspection work and other knowledge and skills of engine. The automotive training equipment engine training model is also suitable for the teaching and skills training of engine in higher vocational colleges and secondary vocational colleges. At the same time, automotive training equipment dissection engine trainer can also be used as an educational equipment for skill training and skill appraisal in technical schools, vocational education centers, and vocational qualification appraisal stations.
Technical parameter
1. Dimensions: 800x600x1200mm
(L x W x H)
2. Drive motor: Single phase, AC220V, 120W, <=100rpm
3. Power supply: AC 220V, 50Hz,
Product composition
Training courses
1. Function introduction of main components of the engine;
2. Demonstration of the work principle and process of the engine;
Suitable car or engine models listed below
| | | | |
| --- | --- | --- | --- |
| | | | |
| | | | |
| | | | |
| | | | |
| | | | |
| | Toyota Vios 1ZR-FE (Gasoline) | | (High pressure common rail) |
| | | | (High pressure common rail) |