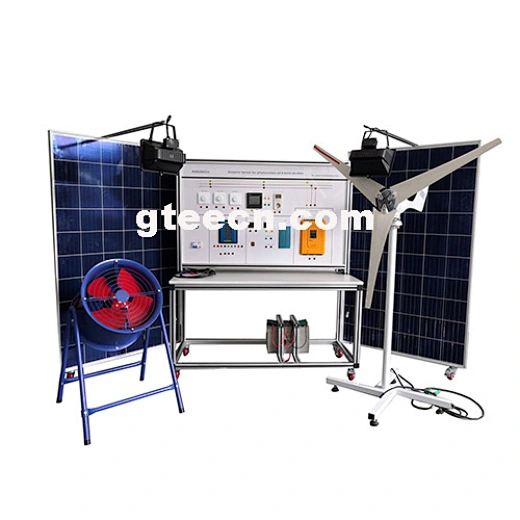 Didactic bench for photovoltaic and wind energy trainer studies
GTST-AN002
Supply Ability
30set / Month
Country of Origin
Guangzhou, China
Order No.: 015-GT2005-ZGP026-065-008
Synoptic diagram of the mobile educational bench with 4 wheels.
* Lot of secure connection sheets to carry out the experiments without difficulty
* Lot of measurement cables of different lengths.
* CD of interactive lessons on the work to be done on the bench
* Manual (s) of practical work.
* Supplied with cords, and connection by security sockets and all accessories necessary for connection and security and data acquisition.
* All the equipment making up the bench must comply with the safety standards in force.
* Realization of diagram and wiring for energy restitution on the network
* Study and recording of the electrical characteristics of the wind turbine and solar panels
2 photovoltaic modules with connection accessories.
DC / AC conversion with an inverter; Hybrid inverter:
Solar charge controller, Artificial solar source or sun emulator
Unit of measurement, of the energies produced and consumed with recovery of the readings taken
Wind power station in the form of a bench or on a mac
Supplied with necessary fixing accessories
Wind emulator with wind speed adjustment
Ammeter - Voltmeter - Wattmeter and power factor
(Note: The quoted software is designed by us, it will not be exactly the same as your software.)