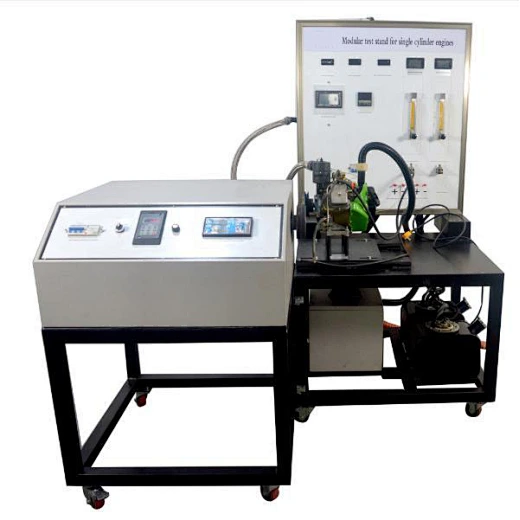 Engine test stand for single cylinder engines, 3kW
GTAT-T001
Technical parameter
1.Test stand: 930 x 860 x 1850 mm approx.
2. Brake unit: 980 x 850 x 1100 mm approx.
3.Measuring ranges:
-Ambient temperature:0-100°C
- Fuel temperature:0-100°C
- Air consumption:30-333L/min
- Fuel consumption:0-50cm3/min
4.Power supply:three-phase 380V/AC, single-phase 220V/AC;
Supply Ability
30set / Month
Country of Origin
Guangzhou,China
1.The engine test stand engine dynamometer for holding prepared single cylinder engines (two-stroke and four-stroke) with a maximum power output of 3kW
2. The engine modules can be tested on this engine test stand is

GTAT-T007, GTAT-T010
3.The engine modules can be connected to brake unit by V-belt drive or elastic coupling
4.Brake speed can be continuously adjusted on the engine test bench
5.Measurement and display of temperatures (oil, fuel, air), engine load, speed, fuel consumption, air intake quantity, oil pressure
6.Fuel supply tanks for 2 different fuels: gasoline, diesel.
This engine test bench can be used to learn the basic knowledgeand skills of engine test bench. The engine test stand engine dynamometer is also suitable for the teaching and skills training of related majors of engine dynamometer in higher vocational colleges and secondary vocational colleges. Meanwhile, the engine test bench engine dynamometer can also be used as an engine test stand for skill training and skill appraisal in technical schools, vocational education centers, and vocational qualification appraisal stations.
1.Test stand: 930 x 860 x 1850 mm approx.
2. Brake unit: 980 x 850 x 1100 mm approx.
-Ambient temperature

:

0-100

°

C
- Fuel temperature

:

0-100

°

C
- Air consumption

:

30-333L/min
- Fuel consumption

:0-50cm3/min
4.Power supply

:

three-phase 380V/AC, single-phase 220V/AC;