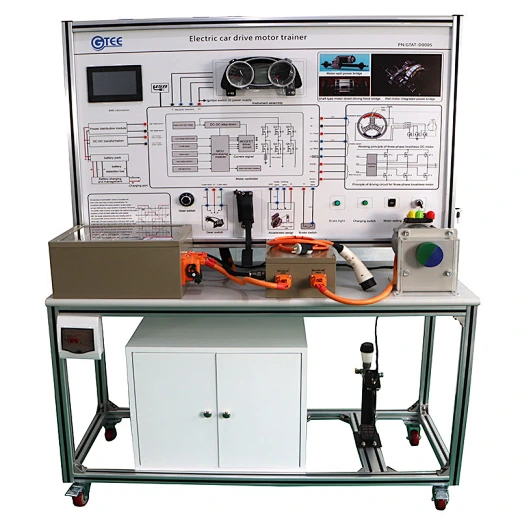 Electric car drive motor trainer
GTAT-D0005
Specification:
Size: 1340mm×550mm×1800mm (length×width×height);
Power supply: single-phase, AC220V/50Hz;
Battery: 16 lithium iron phosphate batteries 3.2V/20AH (DC51.2V)
Working temperature: -40℃~+50℃.
Weight: about 150kg
Supply Ability
30set / Month
Country of Origin
Guangzhou,China
This automotive training equipment training board electric car drive motor trainer is suitable for the teaching needs of vocational and technical schools, colleges and universities, and training institutions for new energy vehicle motor drive systems and maintenance training.The electric car drive motor trainer training board is a very useful automotive training equipment for driving school centers and other vocational schools.This automotive training equipment drive motor trainer can be used to learn the basic knowledge, and skills of electrical machines. The training board electric car drive motor trainer is also suitable for the teaching and skills training of related majors in higher vocational colleges and secondary vocational colleges.
Size: 1340mm

×

550mm

×

1800mm (length

×

width

×

height);
Power supply: single-phase, AC220V/50Hz;
Battery: 16 lithium iron phosphate batteries 3.2V/20AH (DC51.2V)
Working temperature: -40

℃~

+50

℃

.
1. Battery pack: 16pcs lithium iron phosphate 3.2V/20AH batteries;
2. Intelligent charging device;
3. Motor drive controller;
11. Drive motor: three-phase AC asynchronous motor, three-phase AC34V/5kw, rated speed 3000rpm.
12. BMS information display;
14. Leakage protection switch;
1. System function demonstration;
2. Motor internal resistance and insulation testing;
4. Battery voltage measurement;
5. Battery charging experiment;
6. Battery discharge experiment;
7. Shift switch detection experiment;
8. Motor drive controller adjustment experiment;
9. Motor position sensor test experiment;
10. Vehicle speed signal test experiment;
11. Accelerator pedal measurement experiment;