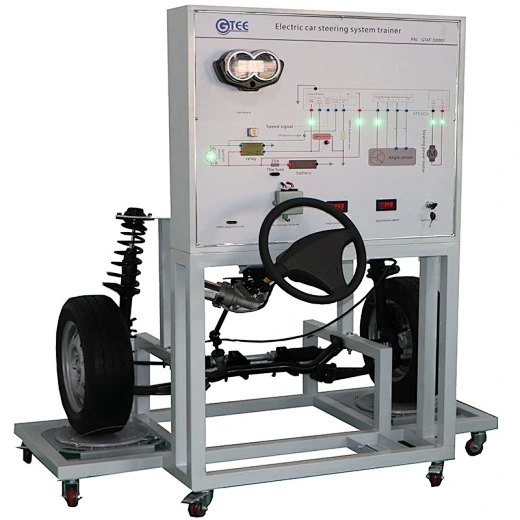 Electric car steering system trainer
GTAT-D0007
Specification:
Size: 1300mm×1000mm×1750mm (length×width×height);
Power supply: single-phase, AC220V/50Hz;
Working temperature: -40℃~+50℃.
Weight: about 200kg
Supply Ability
30set / Month
Country of Origin
Guangzhou,China
This educational training equipment electric car steering system automotive training board is based on the original electric vehicle electronically controlled power steering system components and front suspension system components, and the electric car steering educational training equipment is arranged according to the location layout of the original vehicle. The electric car steering system educational training equipment is suitable for the teaching needs of the theory and maintenance training of electric car steering system and front suspension system in vocational and technical schools, colleges and universities, training institutions.
Size: 1300mm

×

1000mm

×

1750mm (length

×

width

×

height);
Power supply: single-phase, AC220V/50Hz;
Working temperature: -40

℃~

+50

℃

.
1. McPherson independent suspension, brackets and steering knuckles, wheels and tires;
2. Steering gear, tie rod, steering column, steering wheel, etc.
4. Ignition switch, power indicator light, leakage protection switch;
5. Speed simulation device;
9. Steering wheel angle plate;
10. Motor working indicator;
1. Function demonstration of the electric power steering system
2. Introduction of components of electric vehicle power steering system;
3. Familiar with the working principle of electric vehicle power steering system;
4. Torque signal measurement;
5. Vehicle speed signal measurement;
6. Steering motor signal test.