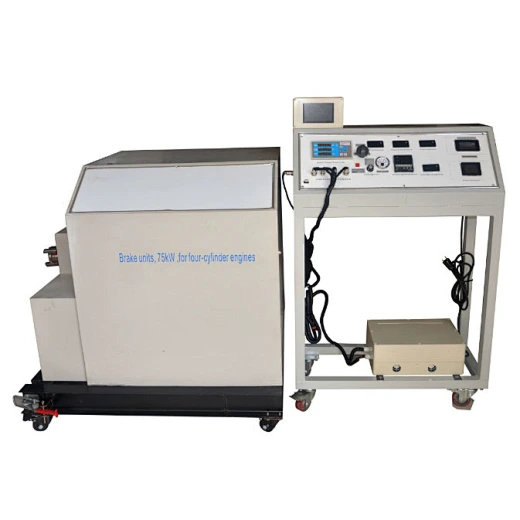 Engine test stand, 75kW, for four cylinder engines
GTAT-T003
1.Dimension:brake unit: 1010 x 990 x1060 approx.
test stand:850 x 390 x1300 approx.
2.Eddy current brake
- Max. Braking torque: 200Nm
- Max. speed: 6000rpm
3.Power supply:three-phase 380V/AC, single-phase 220V/AC;
Supply Ability
30set / Month
Country of Origin
Guangzhou,China
The educational equipment engine test stand engine test bench is suitable for the teaching and testing of related engine in higher and secondary vocational colleges. Meanwhile, the engine test bench engine test stand can also be used as an educational equipment for skill training and skill appraisal in technical schools, and vocational education centers.
1.The Load mechanism of the educational equipment engine test bench for 4-cylinder diesel or petrol engines GTAT-T008, GTAT-T009 with a maximum power output of 75kW
2.Power transmission from test engine to brake unit by elastic coupling and a jointed shaft
3.Potentiometer for continuous adjustment of brake unit on educational equipment;
4.Potentiometer for "accelerating" the tested engine on the engine test stand
5.Measuring the braking power by using speed and torque meter
6. Engine load, air temperature, air intake quantity, speed can be measured and displayed on the engine test bench;
7.Test engine measured value displays: Temperatures (oil, exhaust gas, cooling water, fuel), oil pressure, fuel consumption (using precision scales);
8. Data acquisition unit can collect all of the data measured and communicate with the computer via a USB interface on engine test stand;
1.Dimension: brake unit: 1010 x 990 x1060 approx.
   test stand:850 x 390 x1300 approx.
- Max. Braking torque: 200Nm
3.Power supply

:

three-phase 380V/AC, single-phase 220V/AC;