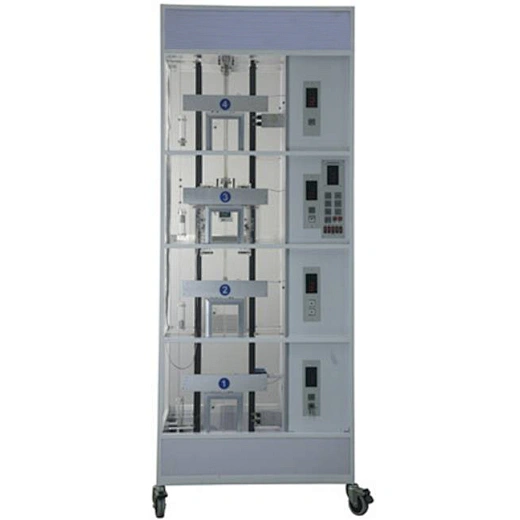 Four-floor transparent elevator teaching model
GTAM-0005
Technical parameter
Dimension: L × W × H =900 × 600 × 2280mm
Net weight: 135kg
Power supply: Single phase, AC220V/50Hz
Structure form: Four floors and four station
Supply Ability
30set / Month
Country of Origin
Guangzhou,China
The educational equipment transparent elevator teaching model is based on the most common lifting elevator structure. The main components of elevator teaching model are made of transparent materials for easy training and understanding the work principle and process of a real elevator. This educational equipment can be used to learn the basic knowledgeand other knowledge and skills of elevator. The elevator teaching model is also suitable for the teaching and skills training of related majors in higher vocational colleges and secondary vocational colleges. At the same time, the educational equipment elevator teaching model can also be used as an assessment device for skill training and skill appraisal in technical schools, vocational education centers, and vocational qualification appraisal stations.
Dimension: L × W × H =900 × 600 × 2280mm
Power supply: Single phase, AC220V/50Hz
Structure form: Four floors and four station
1) Motor room:
contains traction reducer, traction motor, brake, traction pulley, speed limiter, rotary encoder.
2) Well path:
contains guide rail, counterweight mechanism, cabinet (door mechanism, safety plier, guide sheath, lighting, fan), floor door, floor call indicator controller, traction rope, guide wheel, leveling sensor (count reset), upper (lower) limit switch, upper (lower) ultimate switch, cable, cabinet controller, buffer.
3) Electrical control unit:
Contains power supply air switch (leakage breaker), DC12V drive power supply, PLC programmable controller Mitsubishi FX3U-64MR or Siemens CPU226+ EM223, wiring port circuit board, station arriving bell, Panasonic inverter MK300, alarm buzzer.
2. The basic use of the inverter
4. Mathematical operation instruction
6. Automatic cabinet door control
7. Elevator running call indication drive
9. Hall door safety control
10. Elevator terminal switch protection
11. Elevator go up and down deceleration control
12. Photoelectric encoder positioning
13. Cabinet starting and stopping jog control training
14. Speed control training of cabinet acceleration and deceleration
15. Cabinet leveling control training
16. Hall door open and close control training
17. Floor calling system training
18. Terminal limit protection device training
19. Speed limit protection device training
20. Signal indication system training
21. Cabinet lighting control training
22. Elevator control system training
23. Elevator control programming training
24. Elevator program operation and commission training