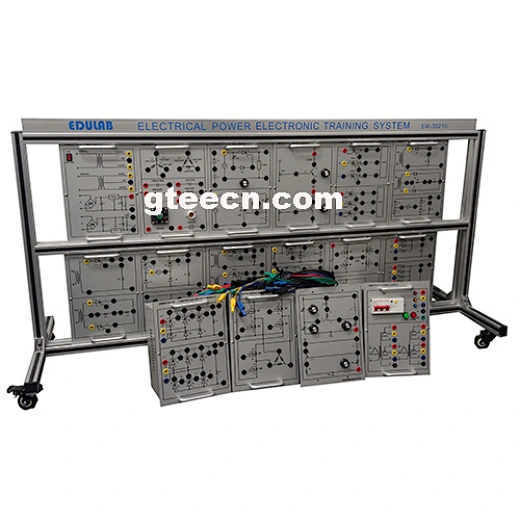 EDUCATIONAL EQUIPMENT ELECTRICAL POWER ELECTRONIC TRAINING SYSTEM MODEL
GTET-1013A
Supply Ability
30set / Month
Country of Origin
Guangzhou, China
POWER ELECTRONICS TRAINER DESCRIPTION
This Power Electronics Trainer System is a versatile, robust and easy to use training kits used for teaching, learning and constructing circuits based on power electronics theory and fundamentals.
Suitable for basic power electronics circuit designs and application.
It is a self-contained system, equipped with the power supply modules, various experiment plug in modules, user guide, experiment manual, connection cables and related accessories.
For each experiment, circuits are constructed by the user using safety connection cables and built-in connector sockets to avoid any hazardous risk to the user and also the training kit itself.
Each experiment is detailed in the lab workbook.
Each of these modules can be directly placed on the laboratory lab bench or can be mounted onto an optional robust table top frame rack (ITEM: TFR-001) when conducting experiments.
Connection using 4mm sockets.
The following Power Electronics Experiments are covered used the various related training modules.
These modules enable students to investigate a wide range of power electronics syllabus practical topics.
Students investigate each topic with hands on experimentation, circuit construction and evaluation tasks which are provided in the experimental manual/workbook.
Each module is equipped with clearly labeled block diagram and built-in connection interface and test points.