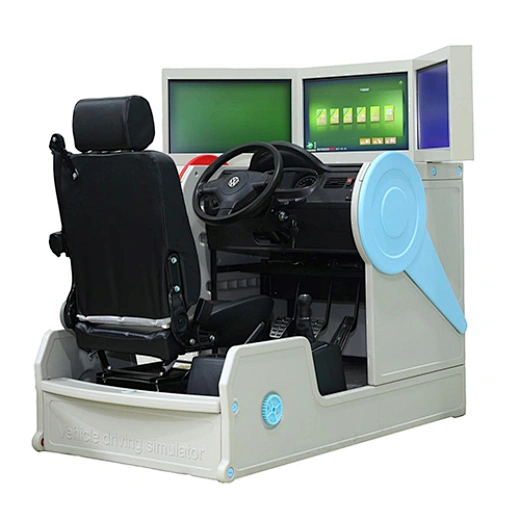 Standard driving simulator three screen car/truck driving school simulator educational equipment
GTAT-5002
Supply Ability
30set / Month
Country of Origin
Guangzhou,China
1.Driving software language: English.
2.Drive mode: left hand drive (runs on right side of road)
3.Manual shift(Optional automatic);
5.Simulate the real driving status and locations;
6.Steering wheel, gears, hand brake accelerator, foot brake, clutch all simulate real car, which makes the driving feeling very similar with the real car.
7.Can choose various training course: Basic operation of starting a vehicle, driving skills training, road driving training, etc.
8.The base and housing is made by high quality ABS plastics.
9.
Automatic scoring: After each training, the system will automatically give the scores for the trainees in text and marks, and automatically record each error operation of each trainee and give the reason for score deduction so that the trainees can keep abreast of their training results, error operation and reasons for score deduction.
In-situ driving

: the light indications of the five major operations;

passive driving: driving according to voice prompts;

base driving: initial on-site driving training contents;

ordinary roads: spacious roads with less car intersection.
Mountain roads:, numerous turnings and steep slopes, rough road surface, complex driving environment, side wind, long steep slopes, sliding slopes, side slides (with voice prompts).

Rural roads: railroad junctions, stations, bus stations, one-way roads, farmland crossings and so on.

Urban roads: bus stations, elevated overpasses, bus lanes, intersections, T-junctions, roundabouts, underground interchanges, one-way streets, double yellow lines, gas stations, department stores bridge crossings, school gates and traffic lights,

vehicle-free pedestrians and so on

.

Highways: service area of toll stations (entry, stop and exit)
Muddy roads: driving on muddy roads (a sense of slipping delay in direction, brake and driving).

Inundated roads: a car driving on an inundated road provides a sense of the forward resistance and side sliding caused by the

 impulse of

water flow, and the pressure between the tires and the road under the water decreases, so the driving force is limited and thus a sense of driving obstruction is generated.

Gravel roads: when a car is driving on a gravel road, the driver may have difficulty in applying the brake and the car continue to slide.
Power supply: AC 220W/50Hz
| | | |
| --- | --- | --- |
| | | |
| | | Comes with car steering wheel and shift lever |
| | | Comes with truck steering wheel and shift lever |