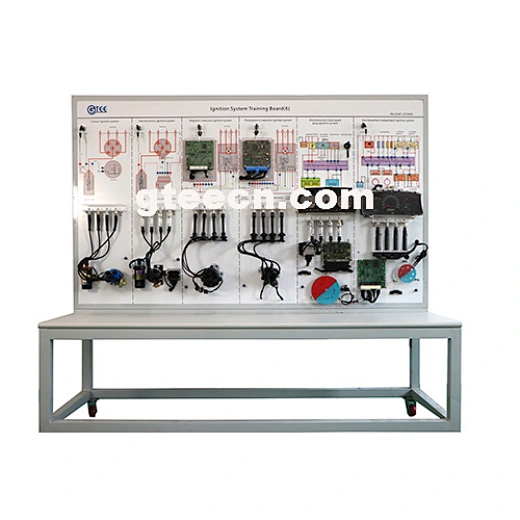 Automobile Training Equipment Automotive Vocational Equipment Ignition System Training Board
GTAT-LSTI006
Supply Ability
30set / Month
Country of Origin
Guangzhou, China
Automobile maintenance teaching and training series.
Engine electronic control system Six kinds of ignition system teaching training board
1. Engine electronic control system is including six kind of ignition system, power system, ignition device, digital ignition frequency table, crankshaft position sensor and simulator, motor drive system and speed regulation device, automobile instrument assembly, measurement board, OBD diagnose interface, Fault setting system, traversing carriage.
2. demonstrate six kind of engine electrical control system, including: point-contact ignition system, Hall effect type ignition system, Photoelectric ignition system, Electromagnetic ignition system, Distributorless electrical and electronical control ignition system and COP ignition system
3. simulating engine working to demonstrate the working process of ignition system
4.to regulate the speed of driving motor by Speed regulating motor controller
5. Distributorless electrical and electronic control ignition system is equipped with Alarm warning lights, diagnose interface guard against theft coil and Guard against theft case
6. equipped with OBD diagnose interface which is convenient to use diagnostic apparatus to test the fault code and waveform.
7. measurement board: there are Engine electronic control system circuit diagram and 4mm measured terminal which is used to measure the voltage, resistance, frequency or waveform of circuit component.
8. Fault setting system: numeric keypad and Intelligent wireless networks.
9. Wireless network intelligent evaluation system
1. external power source: AC220V,50HZ
2. motor power: DC 12V, 25A