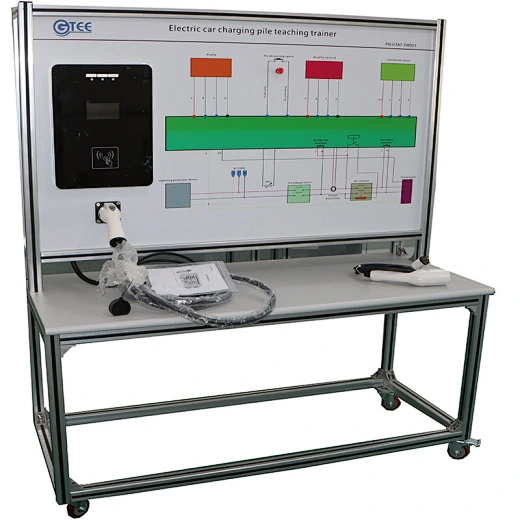 Electric vehicle charging training electric vehicle trainer electric car AC charging pile teaching board
GTAT-D0003A
Specification:
Size: 1340mm×550mm×1750mm (length×width×height);
Power supply: single-phase, AC220V/50Hz;
Working temperature: -40℃~+50℃.
Weight: about 80kg
Supply Ability
30set / Month
Country of Origin
Guangzhou,China
The electric vehicle training equipment automotive training board consists of a truly operational plug-in electric vehicle charging system.  Demonstration of single-phase AC charging pile card swiping principle, charging system handshake signal and AC charging process demonstration, charging fault alarm demonstration, etc.The automotive training equipment electric vehicle training equipment is also suitable for the teaching and skills training of related majors in higher vocational colleges and secondary vocational colleges. At the same time, the automotive training equipment electric vehicle training equipment can also be used as an automotive training board in driving school centers and vocational education centers.
Size: 1340mm

×

550mm

×

1750mm (length

×

width

×

height);
Power supply: single-phase, AC220V/50Hz;
Working temperature: -40

℃~

+50

℃

.
1. Single-phase AC charging pile module: 7KW;
3. Power connection harness;
8. Charging status indicator
1. Demonstration of AC charging system function;
2. Familiar with the structure and principle of the AC charging system;
3. Familiar with the control process and method of the AC charging pile;
4. Understand the terminal function of the charging gun;
5. Demonstrate the principle and working process of single-phase full-bridge rectification;
6. Demonstrate the handshake signals and process of the charging interface.
7. Familiar with the operation methods of charging piles;