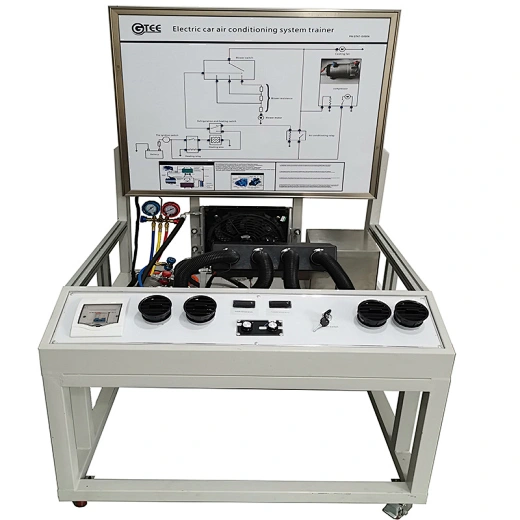 Electric car air conditioning system trainer
GTAT-D0006
Specification:
Size: 1000mm×1600mm×1750mm (length×width×height);
Power supply: single-phase, AC220V/50Hz;
Working temperature: -40℃~+50℃.
Weight: about 200kg
Supply Ability
30set / Month
Country of Origin
Guangzhou,China
The electric vehicle training equipment air conditioning trainer teaching board educational equipment is based on the original electric vehicle air conditioning system, and fully demonstrates the structure and working process of the electric vehicle air conditioning system. The educational equipment air conditioning trainer is suitable for the teaching needs of the theory and maintenance training of electric vehicle air conditioning system in vocational and technical schools, colleges and training institutions. Meanwhile, the electric vehicle training equipment educational equipment can also be used as an assessment device for skill training and skill appraisal in technical schools, vocational education centers, and vocational qualification appraisal stations.
Size: 1000mm

×

1600mm

×

1750mm (length

×

width

×

height);
Power supply: single-phase, AC220V/50Hz;
Working temperature: -40

℃~

+50

℃

.
2. Original EV air conditioning system, including the following components:
High& low pressure gauge, EV air conditioning controller, evaporator, condenser, electric compressor, compressor working indicator, expansion valve, dryer, blower, electric fan, battery pack 48VDC, DC-DC converter, heating system;
3. Training panel with color printed circuit diagram;
4. Fault setting module: default switch type (optional intelligent type);
5. Leakage protection switch;
1. Function demonstration of EV air conditioning trainer system;
2. Introduction of main components of EV air conditioning trainer system;
3. Familiar with the working principle of electric vehicle air conditioning and refrigeration system;
4. Refrigerant filling experiment on the educational equipment;
5. Leak detection experiment of refrigeration system;
6. Introduction of refrigeration system circuit of the electric vehicle training equipment ;
7. Familiar with the working principle of the heating system;
8. Fault setting and troubleshooting of the electric vehicle training equipment;