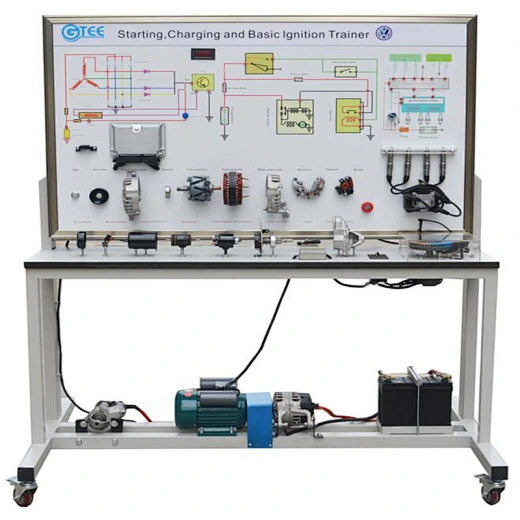 Starting, charging and ignition system trainer
GTAT-4018
Technical parameter
1.Size: 1400mm × 700mm × 1700mm
2.Power supply: AC220V, 50Hz
Supply Ability
30set / Month
Country of Origin
Guangzhou,China
This automotive trainer didactic equipment automotive training equipment provides a realistic simulation of automotive electrical starting, charging and basic ignition systems with real time results and modular panel layout.
The system schematic panel shows the wiring of automotive starting, charging, and basic ignition circuits complete with test points available for measurement by multimeter and oscilloscope.This didactic equipment automotive trainer automotive training equipment is based on the original electric vehicle electronically controlled power steering system components and front suspension system components, and is arranged according to the location layout of the original vehicle. The automotive training equipment didactic equipment automotive trainer is suitable for the teaching needs of the theory and maintenance training of starting, ignition and ignition system in vocational and technical schools, colleges and universities, training institutions.
Technical parameter
1.Size: 1400mm × 700mm × 1700mm
2.Power supply: AC220V, 50Hz
Product composition
| | |
| --- | --- |
| | |
| | |
| | |
| | |
| | |
| | |
| | |
| | |
| Mobile stand with test panel | |
Training courses
1. Function introduction of main components of
starting, charging and ignition
system;
2. Demonstration of the work principle and process of
starting, charging and ignition
system;
3. Measurement of the signals of the sensors and actuators by multimeter or oscilloscope;
4. Fault set and troubleshooting.