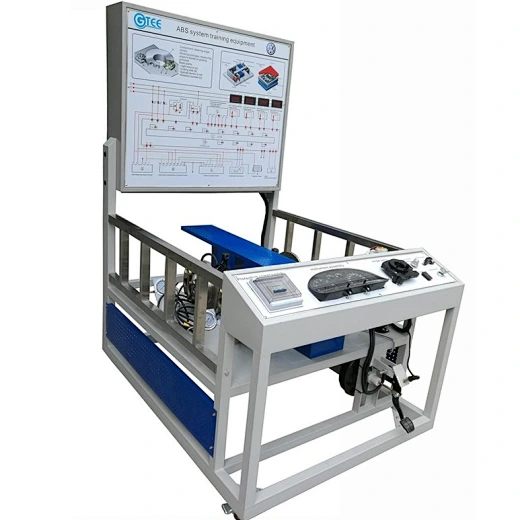 ABS braking system trainer
GTAT-2011
Technical parameter
1. Dimensions: about 1000x1600x1800mm
2. Power supply: AC 220V/50Hz;
Supply Ability
30set / Month
Country of Origin
Guangzhou,China
The didactic equipment ABS braking system trainer demonstrates structure and working principle of the auto ABS braking system. This didactic equipment ABS braking system trainer is based on the original ABS braking system components. The ABS braking system trainer didactic equipment is suitable for the teaching needs of the theory and maintenance training of ABS braking system in vocational and technical schools, colleges and universities, training institutions.
1. Dimensions: about 1000x1600x1800mm
2. Power supply: AC 220V/50Hz;
| | |
| --- | --- |
| | |
| | |
| | |
| | |
| | |
| Brake master cylinder and slave cylinder | |
| | |
| | |
| | |
| | |
| Mobile stand with test panel | |
1. The working principle and process is displayed by the LED indicator on the panel. And the
change of the wheel speed can be monitored in time.
2. The complete schematics and test terminal of the ABS braking system are printed on the test panel, the signal such as voltage, resistance, frequency, etc. of various sensors can be measured through the test terminals.
3. Pressure gauges are installed on the bench which can display the hydraulic pressure changes in the master cylinder and the brake cylinder when braking.
4. After setting the fault, the trainees can use the instruments to check out the location and the failure through the fault troubleshooting exercises.
Function introduction of main components of the ABS braking system;
Work principle introduction of the ABS braking system;
Demonstration of how the ABS braking system works when braking.
Measurement of the signals of the sensors and actuators by multimeter or oscilloscope;
Fault set and troubleshooting
Suitable car models listed below:
| | | | |
| --- | --- | --- | --- |
| | | | |
| | | | Volkswagen Passat ABS/EBD/ASR |
| | Volkswagen Passat ABS/EBD | | |
| | | | |